Developing a High Performance Player
Meeting Rishi has been the most exciting thing that has happened since coaching tennis. I met Rishi when he was 8 years old. When we met for our first lesson, I noticed he was tall for his age and thin. Upon hitting his first forehand groundstroke, I knew we had a lot of work ahead of us. It is always difficult to predict whether a student will continue taking lessons or not, but as time passed, I started seeing more of Rishi. Over the course of this past year, he has grown tremendously both physically and in his tennis skill. Currently, the goal set before him is professional tennis. No one can predict the future, but we are working very hard towards this goal. In all my years of coaching tennis, this is the first time I have come across a student who has potential to become a professional player and is also putting in the hard work to get there. Often times, parents have big dreams of their child becoming a professional player but when it comes down to training, it turns out to be nothing but a distant dream.
This is the first time I am coaching a player who I will be recording videos of every six months to track growth. As we track Rishi's progress, I will break down the most important details of his growth and share them with my Premium Members.
There are many coaches out there who claim their teaching will help improve your game. However, how do you know if what they're teaching really works? Have they ever developed a player from barely hitting a tennis ball to becoming a high performance tennis player? Just because someone plays tennis well, does NOT mean they know how to teach it! This is exactly what I want to show my viewers, how I am developing a player from the beginning, at a young age, into a world class tennis player. Join us now! Click here to become a member.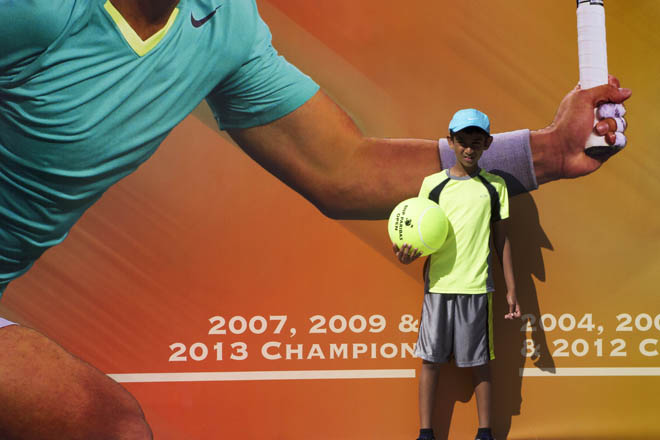 Photo: Rishi (just turned 9 years old) at the 2014 BNP Paribas Tennis Tournament in Palm Springs, California.